Whew - did this month fly by! But of course I've been saying that about every month. I think when you have children, time flies by in the blink of an eye. Anywho...I love April - not only is it my birthday month but it's the start of the Spring season heading into the warm Summer months. I purchased a few new products over the past few months and have been using them like crazy. I have product reviews on some and some are coming in the near future...but here are my favorites for this month:
1. Clinique Quickliner for Eyes Intense in Intense Plum - I love wearing this liner on my bottom lash line to add a POP of color when I feel like wearing a neutral eye - which seemed like almost every day this month. I have been using this and topping it off with the plum shade in the the Tarte quad mentioned below to lock the liner in place. Gorgeous color, easy to use, creamy and soft to apply, and very pigmented - love this new liner from Clinique.
2.
Tarte Eyeshadow Quad in Evoke the Smoke
- I received this eyeshadow quad as part of my recent Tarte Miracle of Maracuja set from QVC. I love the colors in this quad - they are richly pigmented, soft and velvety in texture and very easy to blend out. These shadows are long wearing and didn't crease (although I always apply a primer before applying e/s) throughout the day. With four different colors to use, there are numerous color combos that can be created using this quad. I've been using the plum and black shade almost daily as part of my every day, easy neutral look. Not to mention that I absolutely love the packaging - so girly and cute.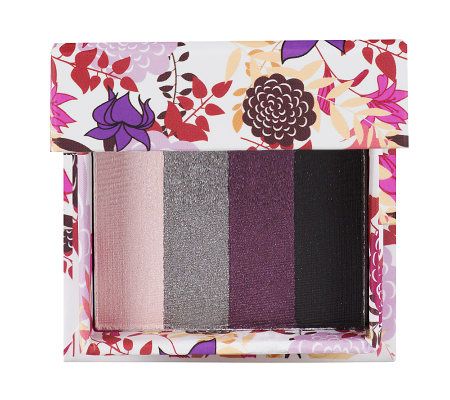 3.
Maybelline Color Tattoo in Bad to the Bronze
- Another product that I have been using on almost a daily basis. I have been using this as my base lid color, blending out just the edges with a clean blending brush (my
Sigma E25
or MAC 217) and then adding a highlight color, lining my upper lash line with the Dark Ash (black) shadow from the Tarte Evoke the Smoke e/s quad and smoking it out with my blending brush. I love that this cream shadow lasts all day without creasing or fading! A great product to use for busy mom's (and women) on the go!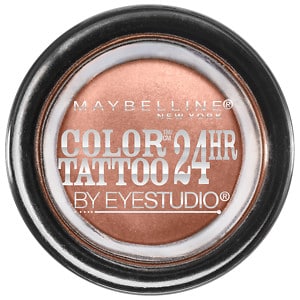 4.
MUFE Smokey Lash Mascara
- I had heard all the hype about this mascara but always stuck with my beloved Covergirl Lash Blast Mascara until now...this mascara had been sitting in my makeup drawer just waiting for me toss out my Lash Blast and try something new. Well I decided to try this one out and I think that I have found my new fave mascara! This mascara is so rich in color and is able to thicken, lengthen, curl, and separate my lashes with just a couple of coats. This has been another product that I have been using on a daily basis. Love this one...
5. Tarte Bouncy Blush in Shimmering Poppy - I also received this in my Tarte Miracle of Maracuja set from QVC. This blush shade is gorgeous - it gives you that glowing, flushed look that looks so natural. This blush goes on so nicely and it is so easy to blend out, especially with the Bamboo Airblush Maracuja Brush that comes with this set. I have been using this almost daily as well. Lovely product...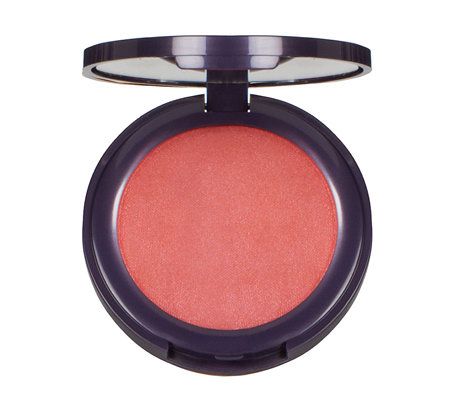 6. MAC Lipstick in Pervette w/MAC Lipglass in C-Thru - I picked these two up on a recent trip to MAC. I had run out of my C-Thru lipglass about a year ago but decided not to repurchase a new one at the time just because I had so many other glosses to use or try out. But I finally gave in because of the beauty of this lipglass - it's creamy, peachy color, and shimmery appearance on my lips (paired with Stone l/l of course). I also swatched Pervette lipstick and absolutely fell in love with the color of this l/s on my skin tone. It has a glaze finish so it is a bit sheer in color but can be built up to it's true color that is seen in the bullet. This l/s is a soft bright pink color with lilac shimmery (and cool) undertones. I loved wearing this l/s topped off with C-Thru with my neutral eye w/a pop of plum color on my bottom lash line. Gorgeous color combo!
I hope that you had a great month of April...I had a great time celebrating my 37th birthday with my husband and kids at Walt Disney World! What a memorable time - priceless on all accounts. I hope that my April faves peaked your curiosity on a new product or two - Enjoy...