I have been so frustrated with my hair for so long now. I have long, curly, thick hair that has the tendency to be dry and frizzy. I end up using SOOOO many products just to tame the frizz and hold my curls together. And that's just when I want to wear my hair curly. When I want to wear my hair straight, my hair is exposed to lots of heat from the hair dryer as well as the flat iron. I try to use products to help strengthen and protect my hair from the heat but I still have dry, frizzy hair. So what can I do to help my hair look healthy again???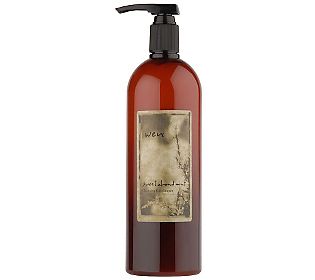 Well....I'm sure that you have all seen the infomercials on the WEN Hair Care System by Chaz Dean and you are asking yourself "What is WEN"? WEN is a cleansing conditioner for your hair that both cleanses and conditions your hair in one single step- this product is really an all-in-one product. The cleansing conditioner acts as your shampoo, conditioner, deep conditioner, detangler and leave-in conditioner. There are different formulations for the different needs that people have for their hair - whether you have color treated, dry hair; curly and frizzy hair; sensitive and flaky scalp; fine to medium hair; etc., there is the perfect cleansing system for you. I tried this product about a year ago - I purchased a 30 day supply of the cleansing conditioner (it also came with a styling cream, texture balm and re-moist hydrating mask) and I used the cleansing conditioner as they recommended. Well I ended up running out of product in about 14 days - and at $30 for a 16 oz. bottle, I didn't think that this system would be worth my money considering how much product I would need for my thick, curly, coarse textured, mid-back length hair.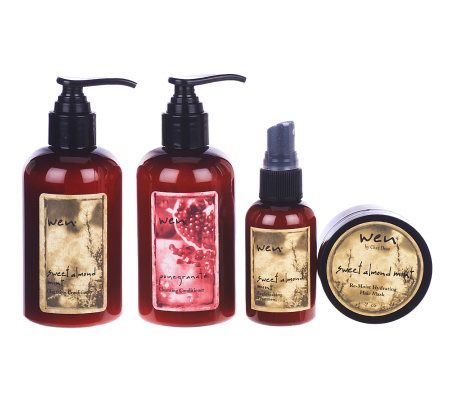 I recently saw the Wen Hair Care System featured on QVC as a Today's Special Value and I got sucked into their claims. I have dreamed of having hair like those models for such a long time...well, thanks to the TSV of $50 you too can get the WEN Cleanse, Protect and Finish set which comes with a 16 oz. bottle of the cleansing conditioner, as well as a 32 oz. bottle, 6 oz. styling cream and 4 oz. Finishing Treatment Creme (not the same set as in the picture). This set had an auto-delivery option that gives you a new seasonal scent every 3 months - I was hooked! I really wanted to find a product to help naturally heal my hair and give me the shine and texture that I had been longing for.
Well...how did it fare? After one use - my hair was noticeably less frizzy, and less dry than usual. My curls looked healthy and shiny and after blow drying my hair straight, I noticed less dry, damaged hair strands vs. my previous hair care routine. I AM A BELIEVER! I am now a WEN girl!! I have now been using the WEN hair care system for one week and I am never using another hair cleansing product again! I love the way may hair looks and feels and I don't have to use so many products like before. I love that this cleansing conditioner doesn't strip your hair of it's natural moisture like regular shampoos and conditioners do. Traditional shampoos and conditioners also leave a residue on your hair strands which ends up leaving your hair looking dry, dull and lifeless which forces you to use more and more products to add moisture, shine and life back into your hair. We are in a never-ending cycle of damage and destroy while rebuilding and repairing. Let's get off of this disastrous roller coaster and get onto the path of healthy, beautiful hair that you were born with!! I would highly recommend the WEN hair care system and I would highly recommend getting the system through QVC where you can find a great deal and on auto-delivery so you'll never be without this dream hair care product.
I love my hair again and so can you! I hope that you find this review helpful...Enjoy.