I admit it, I have been over-plucking my eyebrows for more than 15 years now and the result is that I have sparse and overly skinny brows. I hate it and no matter how much I try to get them to grow back in, they just won't - the damage has been done. But thank goodness for makeup!!
I have been filling in my eyebrows for about 10 years now, mostly with an eyeshadow. I just prefer shadows to pencils as I find them to look more natural and not too "drawn in" looking. I started out with an Elizabeth Arden "brow" shadow and then I found MAC Espresso eyeshadow works just as well. I wanted to soften the color a bit so I switched to MAC Charcoal Brown which looked softer and more natural than Espresso. I have also tried the
Anastasia Brow Kit
which comes with 5 different eyebrow stencils, a wax, 2 shades of shadow, a highlighter and a matte eyeshadow. This kit is nice and makes filling in your brows as easy as it can be - place stencil on brow, fill in, set! But I found that it still didn't do the trick for me all of the time. For the most part, I would switch between MAC Charcoal Brown and the Anastasia brow kit...until I found out about the
Tarte Amazonian Clay Waterproof Brow Mousse & Brow Brush
(only available through QVC.com, $28). You get 0.1 oz of product and this brow mousse is available in 3 colors - Taupe, Medium Brown and Rich Brown. I have fallen in love with this product as well as with the Tarte line in general! I mean come on, a makeup line that is good for you skin! Don't we all want that?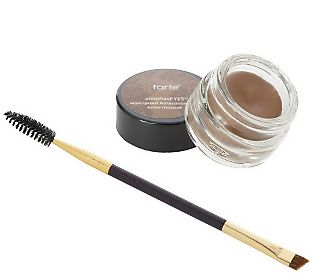 This brow mousse is very easy to use and the end result is a naturally defined brow that is soft in color and natural in appearance. The brush that comes with this product is good quality, however, I find that the brush is a tad "too big" in size for the type of application that I like. I prefer to use my MAC 208 brow brush for application but if my 208 is dirty, I have no qualms using this Tarte brow brush. I really like that once it's on, my brows don't smudge or move, especially on hot days or at the gym. There's nothing worse than working out, glancing at the mirror and seeing your eyebrow smudged, running, or worse, missing!! Defined eyebrows really do frame your face and makes you look more polished. So why not take a couple of minutes each morning to define your brows and use a great product that will make this easier to do! I highly recommend this product to anyone who is looking for an eyebrow product that results in natural looking eyebrows. It's just a shame that this product is only available through QVC...oh well. But hey, while you are there ordering this product, I would also recommend you checking out the other products in the Tarte line, especially the Amazonian Clay Full Coverage 12 Hour Foundation and the Amazonian Clay 12 hour Blushes that I love!! I have ordered some other Tarte products and will do a full review on them in the near future...so stay tuned for that.
I hope that you find this review helpful and remember to always stay beautiful - both inside and out!